AADAR PRODUCTIONS announced launch of 2nd issue of their biennial Magazine Aadar Cover. This Magazine shall feature stars from Bollywood, Series, and few international Celebrities.

It may appear like a Fashion magazine but it is basically a lifestyle magazine from Aadar Productions. The conceptual editors of the magazine, Aditya Sharma and Charu Jain, started this new venture last year with a motive to creating a bridge between giving an opportunity to the talented ones so that the entire world gets to know about them and publishing about the celebrities so that their fans know about them. In a Candid conversation found members of Aadar Productions , Aditya Sharma and Charu Jain share about the journey of their new venture
How did the idea of navigating from event management to lifestyle magazine publication work out?

Last year when the pandemic happened, all our events were cancelled and nothing was happening at that time. So as we also manage a lot of artists, they were suggesting us to come up with our own in house magazine since long. That's when we decided that it was the right time to start something because we had all the time to put our brains into something good. After rounds of discussions with the entire team of AADAR Productions, we came with the name – AADAR Cover Magazine.
-ADITYA SHARMA
How much did the experiences gathered from calendar publication helped in lifestyle magazine?
The Calendar and the Magazine both work quite differently. But we did learn a lot from our Calendar Face Editions which helped us in our magazine. The experience and struggle on how to get that ONE PERFECT SHOT for the page, that's one of the best things we learnt. To the world, it's just a picture but to us, it's the entire personality and character of a person. Getting into the minute details is another thing we learnt.
– CHARU JAIN
Tell us a little about Aadar Cover Magazine?
AADAR Cover Magazine – It's the dream of Aditya Sharma and Charu Jain.
Our vision is to give every individual, who deserve, an opportunity to stand out with the celebrities. To give every work and hard work, recognition so that it reaches people across the world. Last year, in our first edition itself, we published 10,000+ copies which were circulated across India, Nepal and USA. In the years to come, we would be increasing the numbers. AADAR Cover is a platform where an individual can showcase his/her work, be it a model, actor, dancer, poet, entrepreneur or any other artist.
– ADITYA SHARMA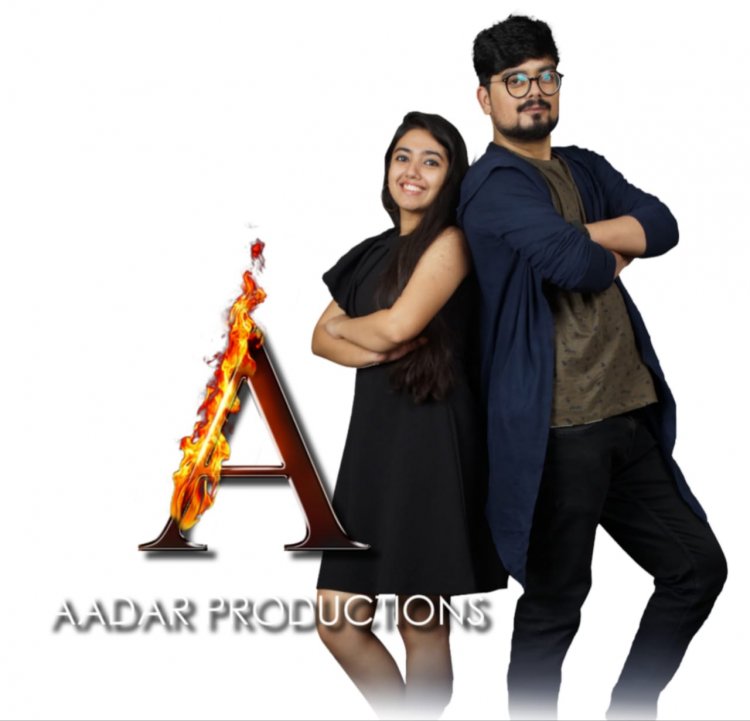 As we know, there are multiple lifestyle magazines, what is key USP for your magazine ?
Working on fashion, our concept does not revolve around publishing just about the ideal models. We love to explore new areas. We bring the fashion out of every one, be it kids, adults, moms, models or any other person, who has that talent. Our idea is quite different, we get involved with the life and work of people and celebrities and bring out their stories into words.
-CHARU JAIN
How did your team members co-operate during the publication of the first edition of the magazine?
As you know, we started AADAR Cover in the lockdown, it was really difficult for us to coordinate initially because it was an entire new thing we were working on. We wanted to cover entire India so working from home through social media and other means was the only way. Aditya and I were in constant discussions with the team and there were times when our team thought it was never going to happen but one after another we sorted things out, motivated the team and built up the base of the magazine. Planning the entire concepts and shoots via calls was quite a difficult task but Aditya's direction on the final shoot day made things easier. He kept everyone motivated and engaged all the time which made the first edition a success. On the launch day, the entire team had tears in their eyes seeing their hard work come out so beautifully and that boosted all of us for the second one.
– CHARU JAIN
Why did you go for biennial publication?
We take good time to serve the full platter of the dish. In those 6 months, we try to get the best we can for our readers. Biennial editions make people curious as to "Who's gonna be on the Cover?" "Who are the celebrities we are covering?" "What stories are we covering?"
– ADITYA SHARMA

Tell us a little about some connections you made after publication of Aadar Cover

AADAR Cover Magazine covered celebrities, brands, freshers, international artists, poets, chefs, actors and what not. In every field, we have made connections in one way or the other. We have strengthened our national as well as international tie-ups.
– CHARU JAIN
Any advice for anyone who is planning to come up with a lifestyle magazine

AADAR Cover Magazine is a lifestyle, fiction as well as non fiction magazine.
Anyone planning to step into the industry should make sure that they build their base well. They shouldn't just focus on publishing one area, instead they should bring out the talent in other areas too. Focussing on people's talent would make a magazine a success.
– ADITYA SHARMA
In today's fast-paced world, finding time to hit the gym daily can be challenging. Disclaimer:
In recent years, particularly since the Covid-19 pandemic, the concept of working from home has
In today's fast-paced world, finding time to hit the gym daily can be challenging. Disclaimer:
In recent years, particularly since the Covid-19 pandemic, the concept of working from home has