The pandemic and the resultant lockdown have taken a lot from us, notably our sanity. The canceled vacations, trips, plans, and so on have left us heartbroken, tired, and depressed. Even now after the relaxation of Covid-19 preventive measures planning an abroad tour is tiresome with all the complications. However now, thanks to Country Tours and Travels, the grey clouds have passed and we can see sunshine above the horizon. After the exhausting pandemic, countless travel agencies were not operational due to unavoidable travel restrictions which caused their funds to be stationery. At Country Tours and Travels, we were able to organize a trip this sensational without complications of any sort.
Country Tours and Travels is the first travel agency in North India that has finalized a tour to America. Read more and immerse yourself in the testimonials and memories of one among our many fun-filled and thrilling vacations abroad.
On 21st April 2022, Country Tours and Travels enabled a group of ten students along with the Principal to embark on a trip to tourist hotspots in America. The nine-day long trip which was priced at a mere ₹2,25,000, covered breathtaking sites which are rich in the history and culture of the land of free and home of brave.
The trip was designed such that the children not only have fun but also take-home experiences that shall inspire them. In the Kennedy space station and NASA, we tried to inculcate and nurture the scientific curiosity of the great minds of tomorrow. A day in Universal Studio was for the DeNiros and Nolans of the future. The bright, cheerful, and innocent laughter of these ten children at the height of the Statue of Liberty and on the rides in Disneyland didn't just make their day but also that of ours and anyone and everyone who witnessed that moment. This is not all, students got 10 years of multiple entry USA visas. After this exhilarating and eye-opening trip, we have received more than 400 registrations from students of various schools in North India, who are thrilled to visit NASA in the coming months.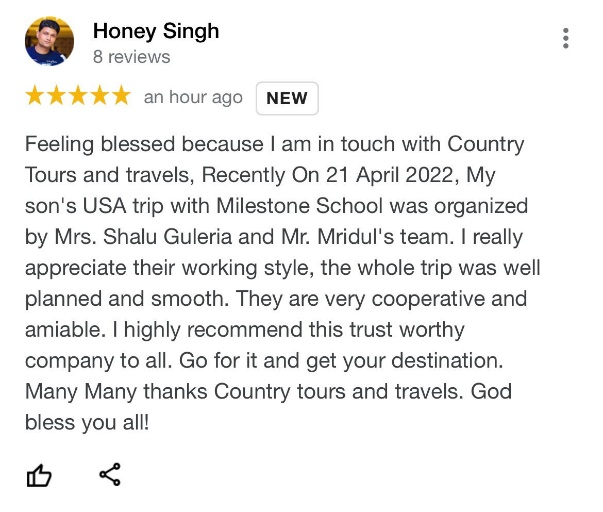 This is what Country Tours and Travels thrive on, utmost customer satisfaction. Country tours and travels don't just specialize in customized tours but also give every client their dream vacation.
Abroad tours are unique. It allows you to explore lands, cultures, languages, and cuisine distinct from yours. It provides you with probably a once-in-a-lifetime chance to expand your horizons and absorb a different culture, maybe one which is strikingly in contrast with that of yours. However, complications such as that of VISA, bookings, and so on are capable of ruining an otherwise memorable trip. But worry not when we are here. We, at Country Tours and Travels, ensure a hassle-free and memorable trip to your dream location which you can treasure for a lifetime. Don't wait any longer, don't keep your dream vacation to 'someday'. Let that SOMEDAY be TODAY and reach out to us for your next trip.
Contact us:
Phone: +91 9878495272, 0172-5261898, 0172-2993856
WhatsApp: +91 9878495272
Email: info@countrytoursandtravels.com
Website: countrytoursandtravels.com
Facebook: Country Tours and Travels
Instagram: @countryt0ursandtravels
Twitter: @country_tours
In today's fast-paced world, finding time to hit the gym daily can be challenging. Disclaimer:
In recent years, particularly since the Covid-19 pandemic, the concept of working from home has
In today's fast-paced world, finding time to hit the gym daily can be challenging. Disclaimer:
In recent years, particularly since the Covid-19 pandemic, the concept of working from home has