Mumbai: Indian films need a strong aesthetic identity. According to Utpal Datta, a leading film critic in India, a fragmented or divided identity will not strengthen the identity of Indian film. An ICCR and Flame University of Pune collaboration hosted a National Seminar on Indian Cinema and Soft Power, which he chaired one of the five sessions. Bharat Bala, Subhash Ghai, Aruna Raje Patil, and Sameer moderated the other sessions.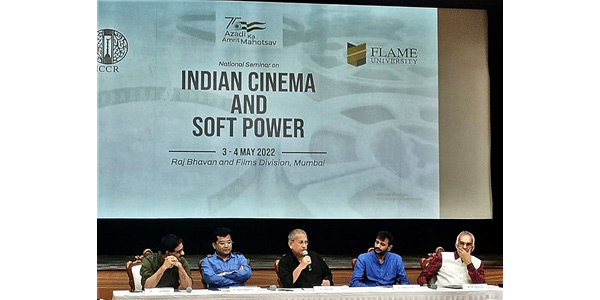 The Seminar was held on 3rd and 4th of May, the first day at Raj Bhawan and the second day at the J B Hall of the Film Division.
Governor of Maharastra Shri Bhagat Singh Koshyari inaugurated the Seminar in which ICCR Chairman Dr Vinay Sahasrabuddhe delivered the opening remarks. The Chief Guest of the opening event was Sekhar Kapoor. Dr Yugank Goel, Professor in Flame University anchored the opening session.
The seminar's goal was to explore cinema's potential as soft power in a global context through five sessions. Topics discussed included 'Global and Indian Cinema through Western Lenses', 'Indian Cinema abroad as a vehicle for understanding Indian culture', 'Regional Cinema and Its Global Influence', and 'Indian Cinema's Engagement with Foreign Audiences and Advance Technology'.
Utpal Datta chaired the session on 'Regional Cinema and Its Global Influence' with the panellist like G P Vijay Kumar, Sashikiran, Santosh Pathare and Pabitra
Margherita. Utpal Datta said- 'We primarily confined the phrase REGIONAL CINEMA to the Indian Context. In a broader sense, Regional Cinema means films made in regional languages. For most, the overseas audience, Indian Cinema is divided into three basic categories – Bollywood Cinema, Cinema from South and Film Festival Cinema. Both Bollywood Cinema and Cinema in South Indian Languages are popular in overseas. Film Festival films are always regarded as a different genre, and audiences for such films are always limited.'
Explaining the term 'Influence' he said 'Influence is an abstract idea with visible effects' and the one liner immediately caught the attention of the audiences.
He added – 'The question is – how the Indian Film will attain that level of capacity to be a powerful player in the Global field of Cinema? He continues –' Indian films will need a strong identity. A fragmented identity or an identity divided into various quarters with a sub identity will not strengthen the identity of Indian Film. My comment might displease some of our fraternity, yet, I say that Indian Film is yet to create a respectable identity globally. Foreign films inspired Dada Shaheb Phalke, as he learnt the craft of Cinema in Europe, and made his Films with Indian content and Indian sensibilities. India has a strong arts tradition; India is a country of artists and art practitioners in both, visual and performing arts. Indian Film identity should have been shaped with the aesthetics of traditional art forms amalgamated with machine/technology-based equipment.
Once Indian Film stands with a unique identity, it will fight to find a place in the global market. The market is nothing but a battle field. One has to fight to find a place, and then another battle starts immediately for survival.
In the book Marketing Warfare, Al Rice and Jack Trout had rightly said that he wins in a battle who can use the latest equipment. This comment is valid and applicable in the war for power as well. At the event of the digital revolution, a platform like Film freeway appeared and changed the grammar of film festival entries. The same happened in film distribution with UFO and other players. Another game-changer is OTT platforms like Amazon, Netflix and others. Amazon Netflix not only exhibits films but also produces. They produce films according to their requirement, and now they have created a new narrative for films.
Becoming a soft power is not only a market-oriented game but it is a philosophy, an ideology, and it is the identity of a country. In the end, we are selling a product, yet we are also exposing our country's pride and honour to the world. The creator who loves his own country has that SWABHIMAN and will think about the country's image. Others are proposal makers or product sellers.
A few sensitive film makers and country lovers feel that the government should not promote such films abroad or inside the country, which show an undeveloped India with plenty of tribals living in remote areas and living amid superstition, hunger and poverty. India has so many stories to tell the world. It's time for the government to promote films that tell a story of tradition, values, and development blended with humanity in the language of film.'
Utpal Datta's latest book 'Film Appreciation' is doing well among the students and film lovers across the globe.
In today's fast-paced world, finding time to hit the gym daily can be challenging. Disclaimer:
In recent years, particularly since the Covid-19 pandemic, the concept of working from home has
In today's fast-paced world, finding time to hit the gym daily can be challenging. Disclaimer:
In recent years, particularly since the Covid-19 pandemic, the concept of working from home has